Traveling can be very wasteful, from the tiny soaps and toiletries in hotel rooms, to the constant consumption of plastic bottles, snacks wrapped in plastic, plastic bags, paper napkins and disposable cutlery. It's easy to want to grab the most convenient items when traveling, but we can't forget about our beautiful planet, and trying to reduce our impact, even while traveling. Imagine traveling a planet that we destroyed because we were to lazy or careless to look after properly…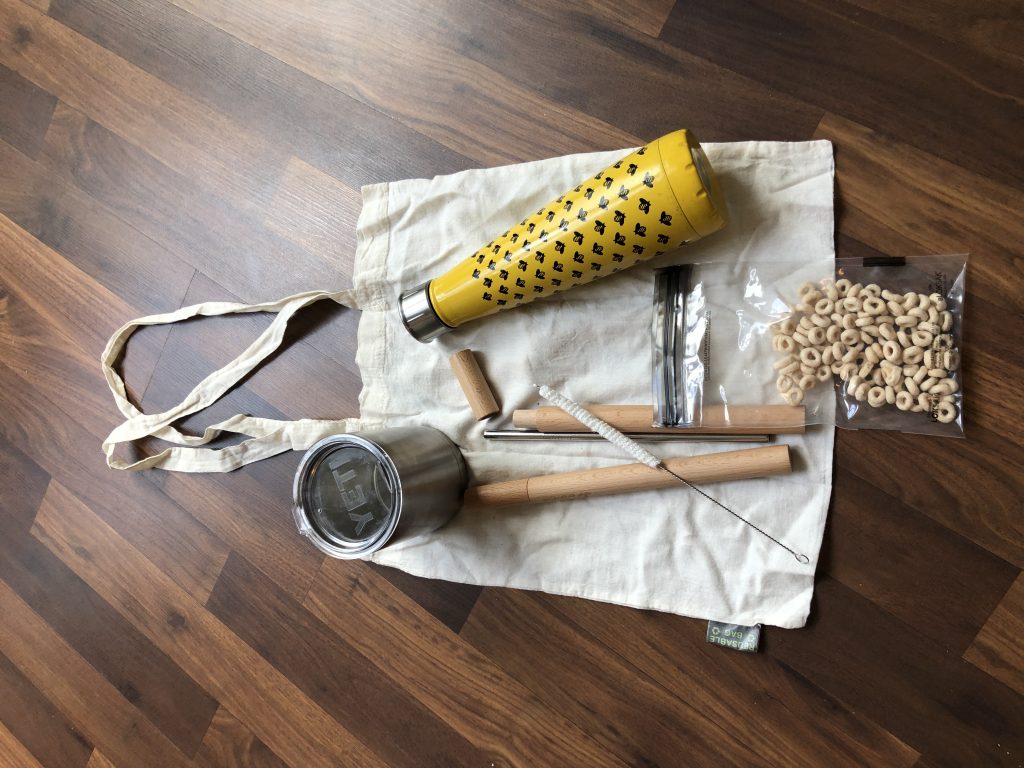 Being "green" doesn't have to be life changing, it just means making small conscious choices whenever possible to reduce/reuse/recycle. Below is a quick and easy list of choices you can make while traveling to reduce your impact on the earth and reduce your garbage production!
1.Water bottle! Bring your own bottle with you! It seems like something so simple, but you can bring your own water bottle with you and refill it throughout the day. Doing this think of all the single use bottles that you are keeping out of a landfill! It's not just water, either, it's sodas, juices, any kind of single-serve beverage that you drink and then dispose of the bottle. By bringing your own bottle, over time you are saving 100s of bottles! Also, BONUS! Water is healthier than all those sugary drinks anyways!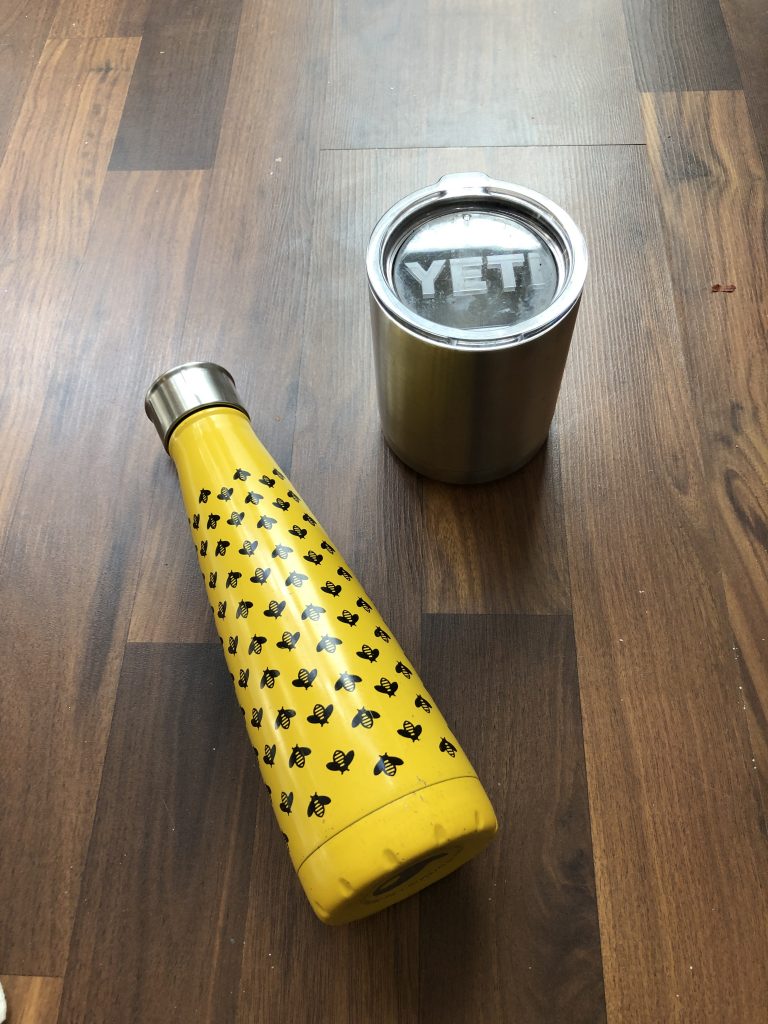 2. Coffee cups. This one is similar to water bottles, but how many coffee cups do you go through, especially when traveling? You don't have the convenience of being at home and making your own, so why not grab one on the go? Well all those cups add up! Bringing your own refillable one to the coffee shop with you means you can still get a coffee on the go, but not waste the cups! PRO TIP: You can also get a metal thermos that can double as a water bottle so you don't have to carry a separate cup and water bottle, which takes up space when you're traveling.
3. Plastic bags/Shopping bags. Grab a small reusable bag that you can stuff in a pocket of your bag and bring with you for extra storage no matter where you go. Whether you use it to grab items at a store, the local farmers market, or even if you've overpacked your suitcase and need a last minute extra space, the uses for a reusable bag are endless, and it saves the earth from unnecessary plastic and waste! Another bag to consider is your TSA approved ziplock bag, could you use a reusable bag? Or at least use your ziplock multiple times instead of throwing it away as soon as you're in the hotel, and then needing a new one to get back home?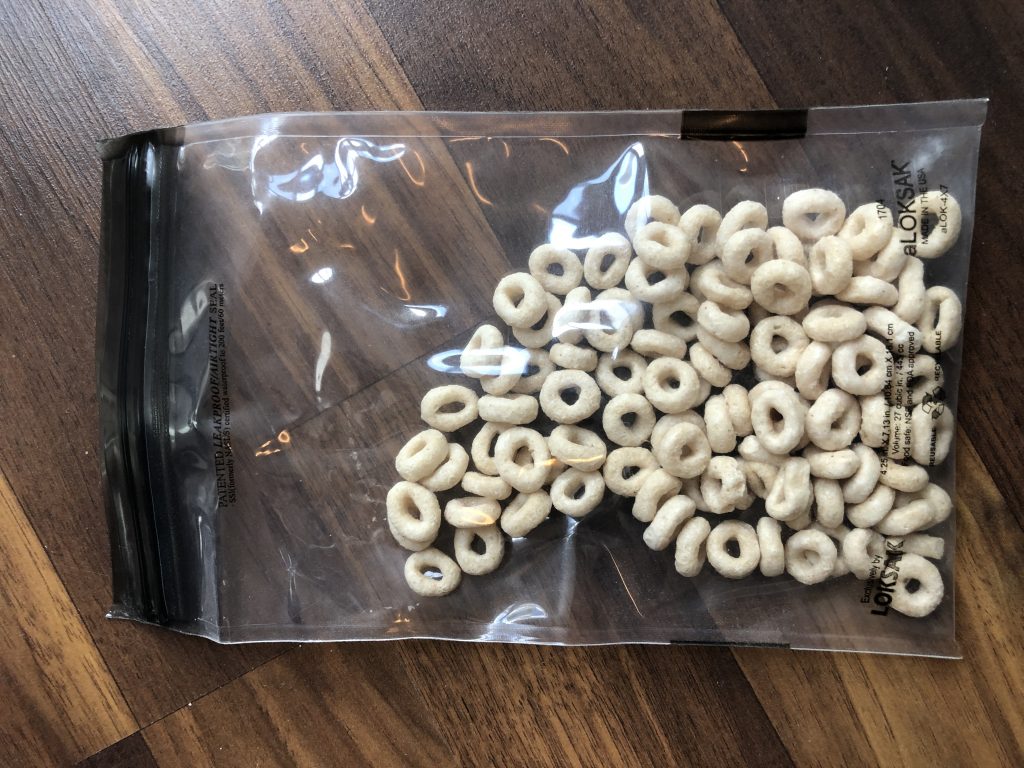 4. BYOT. Bring your own toiletries! Yes the hotel ones feel like a fun little luxury, but they are also wasteful! Get a few refillable travel sized squeezy bottles and fill them up at home. Even look at disposable razors, toothbrushes, etc. there are many areas within toiletries that are wasteful. An added bonus is that you don't need to worry about reactions to new products either, because you will be using all your products that you usually do. LADIES! One toiletry to consider, whether traveling or not, is tampons and pads, and how much garbage these create! Consider switching to a menstrual cup (honestly the best decision I ever made a few years back), it is reusable, and actually more comfortable than "traditional" methods.
5. Stop printing itineraries and boarding passes! Nowadays you can have everything on your phone! Unless a ticket or pass specifically says that it needs to be printed, save the paper and don't! You can scan your phone for boarding passes, event tickets, keep a copy of your itineraries, access emails, etc. There is really no need to print everything out and waste all the paper (think of the trees!). The only thing I do suggest to print would be a photocopy of your passport and I.D. that you leave somewhere safe while traveling, for just in case.
There are lots of little ways that we can all be better about our waste production, and again, they aren't life altering changes. It all starts with just a few better choices to start making a difference. How do you try and reduce your impact when traveling? Do you find it difficult when you are on the go? Let us know in the comments below!
x Megan